(Also see- Phoenix Shooters Association)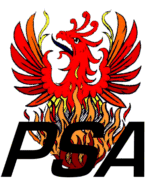 Should Handguns have been banned? There's a Daily Telegraph poll at Handgun Poll
Please visit and give your vote.


Saltney Ferry Scout and Guide Group need votes to get help from the North Wales Police proceeds of crime funds to help them get back on their feet after the disastrous fire -
See- Proceeds of Crime Fund Please vote and get your friends and relatives to help if you can.
Thanks !

NEW Firearm and Shotgun application forms came into effect on 1st December last year See the


Last updated 13:24, 26th January 2014


---
---
WELCOME !
We are a small, friendly target shooting club serving the Cheshire, Wirral and North Wales area of the UK.

We shoot rifles, muzzle-loading pistols and shotguns on ranges local to the Wirral.

Our site is somewhat quirky, and we try to keep the accent on information, so I'm afraid you won't find any wizz-bang demonstrations of the latest website technology.
Our credo is: "SPORTSMANSHIP FIRST"
---
---